Kyber Network is a decentralized exchange for cryptocurrencies. Founded by Loi Luu, Victor Tran, and Yaron Velner in 2017, Kyber Network can be used to exchange and convert digital assets. The Kyber Network token sale took place in September 2017, which raised around 200,000 ETH (the equivalent of $60 million USD at the time).
The testnet launch took place in August 2017. Kyber Network's mainnet pilot launch followed in February 2018, and ran until April 2018. The platform is running on the Ethereum mainnet, and the Kyber Network public beta has been open to all since March 2018. Vitalik Buterin, the founder of Ethereum, is known to be an adviser in the project.
The Singapore-based project also offers payment APIs and a contract wallet, which allows users to receive and process payments in any token. In addition, Kyber Network aims to offer high liquidity by maintaining a reserve of tokens. It also offers instantaneous conversion and exchange—with no need to wait for confirmations, and no deposit required.
Future plans in the Kyber Network road map include converting ERC-20 tokens (in Q2 of 2018), trading advanced financial instruments (in Q4 of 2018), and cross-chain trading (in early 2019).
Kyber Network Token (KNC)
The Kyber Network Token (KNC) is a utility token with a total supply of 215,625,349. 61% of tokens are held by the general public. 19.5% of them are held by Kyber Network, and the remaining 19.5% are held by founders, advisors, and seed investors.
The KNC is used by reserve managers to pay platform fees. It's also paid out as a reward to partners and parties that help direct traffic, generate volume, and catalyze trading activities on the Kyber Network platform.
How It Works
Aside from being an exchange, Kyber Network allows the P2P transfer of tokens. A particularly interesting element is that the token a user sends doesn't need to match the token that the recipient wants to receive. For example, a user could send OmiseGO (OMG), but the recipient might receive Request Network (REQ), depending on their preferences. Either way, Kyber Network makes the exchange during the transfer.
The dynamic reserve pool maintains liquidity. This pool contains all of the reserve entities in the system. The presence of multiple entities in the pool prevents monopolization, and also ensures that exchange rates remain competitive. All trades on Kyber Network take place entirely on the Ethereum blockchain.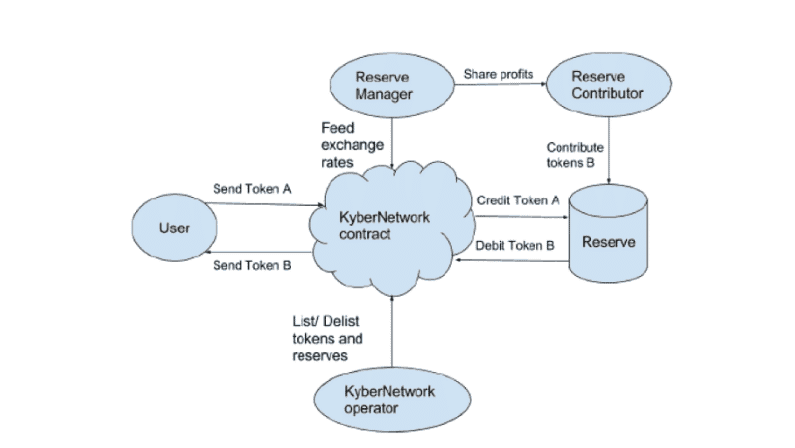 Currency Support
The mainnet pilot launch of Kyber Network included a listing of the following 10 tokens:
Basic Attention Token (BAT)
As Kyber Network scales up, more tokens will be listed in the near future.
Fees
Kyber Network is a decentralized exchange, so one of its main advantages is that fees are minimal. Indeed, on the Ethereum network, users of the platform only pay the gas fee of the transaction. There are no additional service charges or transaction charges to speak of.
Security
Not much is known about the level of security provided by Kyber Network. Decentralized exchanges remove some of the risks associated with involving a third party and having sensitive information stored in a central location.
It's also worth noting that Kyber Network doesn't have access to the wallets and funds of users at any time. Rather, every operation takes place on the smart contract. Users aren't forced to use the Kyber Network web wallet, and they can actually import an address from MetaMask, or even a hardware wallet (such as Trezor and Ledger Nano S).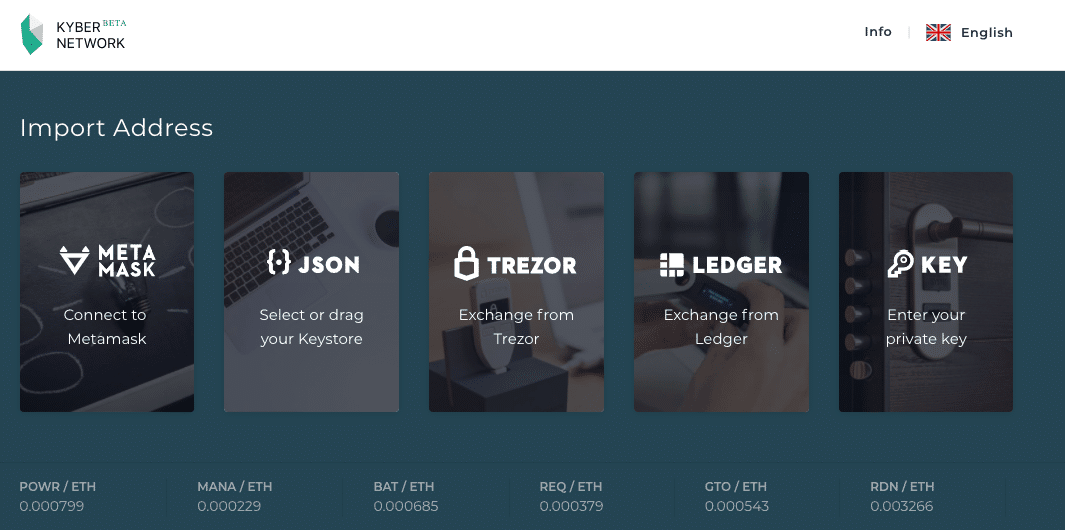 Customer Support
While still very much in its infancy, Kyber Network does offer a level of customer support. It uses ZenDesk, which is a well-known customer service company. Users can submit support tickets to ZenDesk or use the website's FAQ page.
Public Opinion/Online Reviews
Kyber Network is still young and in beta. So it's relatively unknown, which is evidenced by the lack of public opinion and online reviews of the platform. However, the beta is now open to all, so it should see an increase in feedback online.
However, the general consensus is that decentralized exchanges should be welcomed. Kyber Network's partnerships with CoinManager, ICON, and Wanchain have generated some buzz.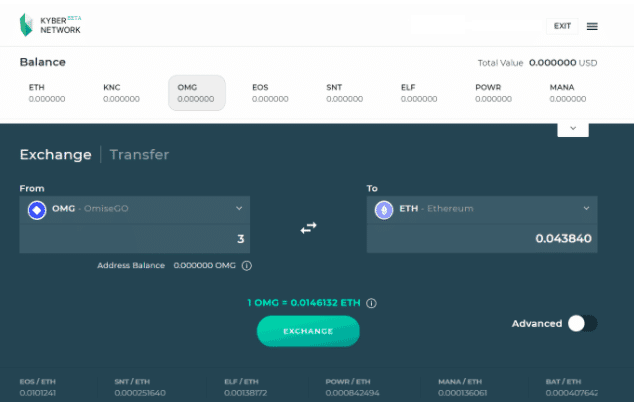 Users who have experienced the Kyber Network platform have generally praised its user-friendly design. The convenience of being able to directly connect a hardware wallet to Kyber Network cannot be understated. In addition, this connection provides a greater level of security.
Perhaps the main concern surrounding Kyber Network is that it's still very much in its infancy. So there's an element of doubt about whether or not it can deliver all of its aims.
Conclusion
Kyber Network may not be the only decentralized exchange project around, but it has a number of features that make it stand out. One real selling point is that it offers instant transactions with minimal fees.
If it can deliver on its promise of speed, security, and liquidity, Kyber Network has the potential to become a popular exchange among users. It will be interesting to see if it can continue developing, while simultaneously attracting enough users.
Have you used the Kyber Network platform? What do you think of this decentralized exchange? Let us know in the comments below!